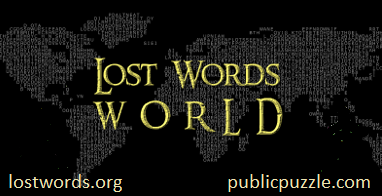 PHILOSOPHY OF LIFE in this game, everyone plays the same game at the same time.

is worth more than 1,000 points and HATE is negative five.

Go make your mark on the world, one word at a time.

Stop playing with yourself, play with the world.

When anyone finds LOVE, everyone gets a heart on their screen.

Like life, you are challenged to find your own meaning.

Also like life, there are no instructions and you might not enjoy it.


Play Screenshots
Lostwords was written and conceived by Dog-Star, with limited assistance by WrongWay (its not his fault the game sucks).
Please
Contact
me with any comments and questions, or if you would like to contribute to the development of this site.
You are thrust into a world of darkness - go make your mark on the world - one word at a time


---
In this game you simply create words by selecting the letters you touch. Points are based on length of word and colors added to the world. The game is always changing, each letter lives for only several hours, then it comes back a different letter and the default color. You can find words in English y Spanish und German. You can enter backwards mode where words are found only by spelling them backwards. There is a unique OVERHEAD VIEW MODE Example that can be used to show the action of all players in a waiting room, school, library, lobby, etc. I've written the link - lostwords.org - in the sand almost every day of 2015 and still sometimes continue to do so here in Daytona Beach. There are over 1,000 specific word find puzzles in the traditional game - In the desktop version, you can create your own specific word finds with specific rules, bends, word lists, etc. Up to 10 players play a specific puzzle with the ability to interact and chat between players.

---
This project started as a simple HTML 5 and javascript attempt at learning canvas. As you will see, the code is a lot out of hand and the game has more functionality than most people want or will appreciate and use. Unlike most GAMES, this one isn't for most people, It's for everyone, at the same time and in the same game.


In summary, I've created a unique interactive word game that uses an overhead projected view to engage any public audience. It allows them to interact through the internet using smart phones or tablets to play with and against each other in a customized and unique word search game. The game allows for play without the need for overhead viewing, however, I believe this unique socialization idea has potential to be a game changer in public settings. I continue to develop additional concepts and I am eager to work with your team to develop anything desired. My idea for an interactive mobile experience provides the reason for a group to pay attention to an overhead display and entertains them with game play and socialization. In addition to views of the game, a short advertisement screen is implemented and can be configured to provide relevant information to the public. The unique game theory implemented in lostwords.org demonstrates the potential to interactively engage any audience in real time. Although I would expect use of lostwords.org at locations like libraries and lobbies of schools, the use of this technology is not limited to them. Starbucks(tm) and bookstores might also be interested in a marketable version of this technology and this is where I want your help. I desire to work with a marketing business and their software developers in order to centralize my idea and implement it where desired. As a current student pursuing my Bachelor's degree at Daytona State College (Daytona Beach, FL, 2016), I am eager to demonstrate the idea and work with your company in any way necessary to put my unique idea to use. I am available at almost anytime to discuss any suggestions you may have. Please contact me at your convenience sheldon@pasciak.com Thank you again for your time and feel free to share this with your colleagues and those in the marketing industry. A multiplayer word search game where everyone plays the same game at the same time.

---
Disclaimer of Warranty.


Unless required by applicable law or agreed to in writing, Licensor provides the Work (and each Contributor provides its Contributions) on an "AS IS" BASIS, WITHOUT WARRANTIES OR CONDITIONS OF ANY KIND, either express or implied, including, without limitation, any warranties or conditions of TITLE, NON-INFRINGEMENT, MERCHANTABILITY, or FITNESS FOR A PARTICULAR PURPOSE. You are solely responsible for determining the appropriateness of using or redistributing the Work and assume any risks associated with Your exercise of permissions under this License.

PLEASE READ THE TERMS AND CONDITIONS OF USE CAREFULLY BEFORE USING THIS SITE.

This site is free to use by our visitors. And by using this site, you the user are agreeing to comply with and be bound by the following terms of use. After reviewing the following terms and conditions thoroughly, if you do not agree to the terms and conditions, please do not use this site.
Acceptance of Agreement. You agree to the terms and conditions outlined in this Terms and Conditions of use Agreement (Agreement) with respect to our site (the Site). This Agreement constitutes the entire and only agreement between us and you, and supersedes all prior or contemporaneous agreements, representations, warranties and understandings with respect to the Site, the content, free product samples or freebie offers or services provided by or listed on the Site, and the subject matter of this Agreement. This Agreement may be amended by us at any time and at any frequency without specific notice to you. The latest Agreement will be posted on the Site, and you should review this Agreement prior to using the Site.
Copyright. The content, organization, graphics, design, and other matters related to the Site are protected under applicable copyrights and other proprietary laws, including but not limited to intellectual property laws. The copying, reproduction, use, modification or publication by you of any such matters or any part of the Site is strictly prohibited, without our express prior written permission. Deleting and Modification. We reserve the right in our sole discretion, without any obligation and without any notice requirement to you, to edit or delete any documents, information or other content appearing on the Site, including this Agreement.
Indemnification. You agree to indemnify, defend and hold us, our officers, our share holders, our partners, attorneys and employees harmless from any and all liability, loss, damages, claim and expense, including reasonable attorney's fees, related to your violation of this Agreement or use of the Site.

Disclaimer. THE CONTENT, SERVICES, FREE PRODUCT SAMPLES AND FREEBIE OFFERS FROM OR LISTED THROUGH THE SITE ARE PROVIDED "AS-IS," "AS AVAILABLE," AND ALL WARRANTIES, EXPRESS OR IMPLIED, ARE DISCLAIMED, INCLUDING BUT NOT LIMITED TO THE DISCLAIMER OF ANY IMPLIED WARRANTIES OF TITLE, NON-INFRINGEMENT, MERCHANTABILITY, QUALITY AND FITNESS FOR A PARTICULAR PURPOSE, WITH RESPECT TO THIS SITE AND ANY WEBSITE WITH WHICH IT IS LINKED. THE INFORMATION AND SERVICES MAY CONTAIN BUGS, ERRORS, PROBLEMS OR OTHER LIMITATIONS. WE HAVE NO LIABILITY WHATSOEVER FOR YOUR USE OF ANY INFORMATION OR SERVICE. IN PARTICULAR, BUT NOT AS A LIMITATION, WE ARE NOT LIABLE FOR ANY INDIRECT, INCIDENTAL OR CONSEQUENTIAL DAMAGES (INCLUDING DAMAGES FOR LOSS OF BUSINESS, LOSS OF PROFITS, LOSS OF MONEY, LITIGATION, OR THE LIKE), WHETHER BASED ON BREACH OF CONTRACT, BREACH OF WARRANTY, NEGLIGENCE, PRODUCT LIABILITY OR OTHERWISE, EVEN IF ADVISED OF THE POSSIBILITY OF SUCH DAMAGES. THE NEGATION OF DAMAGES SET FORTH ABOVE ARE FUNDAMENTAL ELEMENTS OF THE BASIS OF THE BARGAIN BETWEEN US AND YOU THE USER. THIS SITE AND THE INFORMATION WOULD NOT BE PROVIDED WITHOUT SUCH LIMITATIONS. NO ADVICE OR INFORMATION, WHETHER ORAL OR WRITTEN, OBTAINED BY YOU FROM US THROUGH THE SITE SHALL CREATE ANY WARRANTY, REPRESENTATION OR GUARANTEE NOT EXPRESSLY STATED IN THIS AGREEMENT. THE INFORMATION AND ALL OTHER MATERIALS ON THE SITE ARE PROVIDED FOR GENERAL INFORMATION PURPOSES ONLY AND DO NOT CONSTITUTE PROFESSIONAL ADVICE. IT IS YOUR RESPONSIBILITY TO EVALUATE THE ACCURACY AND COMPLETENESS OF ALL INFORMATION AVAILABLE ON THIS SITE OR ANY WEBSITE WITH WHICH IT IS LINKED.

Limits. All responsibility or liability for any damages caused by viruses contained within the electronic file containing the form or document is disclaimed. We will not be liable to you for any incidental, special or consequential damages of any kind that may result from use of or inability to use the site. Third-Party Website. All rules, terms and conditions, other policies (including privacy policies) and operating procedures of third-party linked websites will apply to you while on such websites. We are not responsible for the content, accuracy or opinions express in such Websites, and such Websites are not investigated, monitored or checked for accuracy or completeness by us. Inclusion of any linked Website on our Site does not imply approval or endorsement of the linked Website by us. This Site and the third-party linked websites are independent entities and neither party has authority to make any representations or commitments on behalf of the other. If you decide to leave our Site and access these third-party linked sites, you do so at your own risk.
Third-Party Products and Services. We advertise third-party linked websites from which you may purchase or otherwise obtain certain sample goods, freebie offerings or free trial services. You understand that we do not operate or control the products, free offerings or services offered by third-party linked websites. Third-party linked websites are responsible for all aspects of order processing, fulfillment, billing and customer service. We are not a party to the transactions entered into between you and third-party linked websites. You agree that use of such third-party linked websites is at your sole risk and is without warranties of any kind by us, expressed, implied or otherwise. Under no circumstances are we liable for any damages arising from the transactions between you and third-party linked websites or for any information appearing on third-party linked websites or any other site linked to or from our site. Submissions. All suggestions, ideas, notes, concepts and other information you may send to us (collectively, "Submissions") shall be deemed and shall remain our sole property and shall not be subject to any obligation of confidence on our part. Without limiting the foregoing, we shall be deemed to own all known and hereafter existing rights of every kind and nature regarding the Submissions and shall be entitled to unrestricted use of the Submissions for any purpose, without compensation to the provider of the Submissions.
---
[Privacy Policy]
---



about help Play



Puzzles are submitted by the player community and therefore can contain content not appropriate for some viewers.


My Early Words My First Words

Create Your Game

Get Deskop Game